Brands
Aunt Lena's Preserves has been making the homemade and all natural products their clients grew up with over 10 years.
Visit Aunt Lena's Preserves
In 1892 James King established Cedardale Farm in the fertile fields of North Dumfries, between Kitchener and Cambridge, Ontario. Four generations later, King's great-grandson, Tim Barrie, farms Cedardale and operates Barrie's Asparagus Farm & Country Market.
Visit Barrie's Aspargus
Bright Cheese & Butter was established in 1874 by a group of local farmers who realized they had a surplus of milk each month from their livestock. Since then, not much has changed. We are still providing fresh quality dairy to the Ontario region. We are well known for our all natural, naturally-aged cheese made with 100% local milk.
Visit Bright
Feige's Gourmet Dressings are not just salad dressing.  They are extremely versatile and can be used for dips, marinades and grilled vegetables.
"DON'T EAT NAKED VEGETABLES, ALWAYS KEEP THEM DRESSED"
Visit Feige's Gourmet Dressings
Gunn's Hill Artisan Cheese is a small artisan cheese plant nestled within the rolling hills of Gunn's Hill Rd. in Oxford County, Ontario. This small scale artisan cheese plant is the result of years of dreaming and planning by owner, operator and cheese maker Shep Ysselstein. The cheeses produced at Gunn's Hill Artisan Cheese are truly unique although you can taste the Swiss influence from techniques and recipes Shep learned while making cheese in the Swiss Alps.
Visit Gunn's Hill
Heritage Line Herbs specializes in everything herbs and lots of local. All of our dried herbs, from basil to tarragon, are harvested and packaged with care. We create delicious dried herbal blends for all your culinary needs.
Visit Heritage Line Herbs
Located in the heart of Ontario's celebrated apple growing region, Martin's orchards offer you some of the most flavourful, richly colourful, extra-crisp apples you'll ever find. But it's our passion for farming, our commitment to quality and freshness, and our dedication to specialized customer service that has helped Martin's Family Fruit Farm grow to become one of the largest growers, packers, and shippers in North America.
Visit Martin's Family Fruit Farm
Norfolk Packers was established in 1969 and is a third generation family owned and operated business. We pride ourselves in producing fresh, local pork products for our customers and their families.
Norwich Packers Beef takes pride in selecting only the very best cattle worthy of bearing the Norpac name. Norpac primarily chooses exotic cattle such as Limousin and Belgian Blue. These cattle are high-yielding, lean animals that produce a consistently tender product. These breeds can also be crossed with Angus to produce marbling in order to service certain specialty markets. Emerson Gill, cattle buyer, and Matt Heleniak, manager/cattle buyer, use their extensive experience and training to select only the finest, 100% corn-fed cattle for the Norpac brand.
Visit Norwich Packers Beef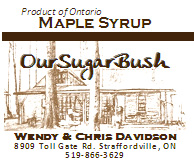 Our Sugar Bush produces sweet, amazing maple syrup in Straffordville Ontario.
Rootham Gourmet Preserves is a small, family owned business that produces a line of gourmet products including: savoury sauces, jams, dessert sauces, BBQ and salad dressings, and of course our signature product, Tangy Red Pepper Jelly. With a focus on using local ingredients, we partner with farmers in our community to source as much local produce as possible. We produce in small batches to ensure the quality and consistency of each and every jar.
Visit Rootham's Gourmet Preserves
Schep's Bakeries has been making Syrup Waffles or stroopwafels since 1985. A Syrup waffle is a cookie baked by being pressed together using an iron, sliced through the middle while they are still steaming hot and filled with a special syrup filling. Using a closely guarded recipe brought over from Holland, Schep's Bakeries produces a syrup waffle in the same manner as those who started making them in the early 1800's. Still importing many of our specialty ingredients directly from Holland they strive to make the best possible stroopwafels and are delighted when visitors from Holland comment on the great taste of their waffle cookies.
Visit Schep's Bakeries
Shaw's Ice Cream was established in 1948 by Carl Shaw and his family. Since this time, our operation has maintained a long tradition of producing fine quality ice cream. What's the secret to making such great tasting ice cream you ask? Well its no secret at all, we simply use only the best ingredients and of course real Canadian cream! We take time in sourcing the purest flavourings, fruits, and dairy ingredients to bring to you what we consider the worlds best ice cream!
Visit Shaw's
Treat your senses, savor the tastes and enjoy the flavours of our delicious desserts. Making desserts is what we do best! Browse our signature coffee cakes, sumptuously moist layer cakes, decadent cheesecakes, light refreshing mousse cakes, outrageously delicious cupcakes, uniquely shaped form cakes, delicious loaf cakes, scrumptious flans and mouthwatering brownies, then bring these desserts to your customers.
Visit Starr Culinary Delights
Tillsonburg Custom Foods is a federally inspected, Halal accredited, HAACP plant with over 30,000 square feet of the latest and most innovative machinery in the poultry industry. They pride themselves on being a Canadian family-owned operation focused on producing great tasting, health conscious foods.
Visit Tillsonburg Custom Foods